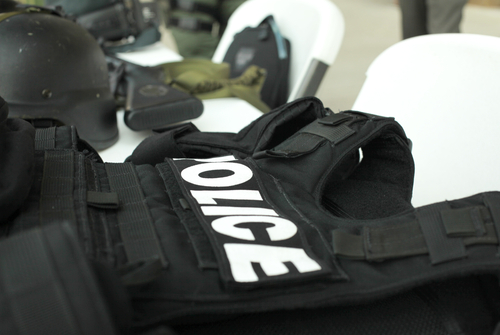 Officers with the Los Angeles Police Department have already created more than 1.1 million videos from body cameras, according to a report approved today by the Los Angeles Police Commission.
The City Council enacted a $59 million plan last June to equip more than
7,000 patrol officers with body cameras by the end of this year, and the
report was issued to give the commission an update on the program's status.
As of March 22, 2,794 cameras have been deployed, according to the report.
The use of body cameras has become a prominent issue as the focus on
police shootings has grown nationally, and the LAPD has said it hopes the
cameras will help build more public trust in the department.
But while it is seeking to build trust, the department has been
criticized by some for not releasing the videos publicly except in response to
a court order, and last week the commission announced it will be seeking public
input as it crafts a policy on releasing the videos.
LAPD Assistant Chief Michel Moore told the commission the department has
set up inspection teams to perform random checks of videos to ensure cameras
were turned on during non-critical events, because critical events trigger an
automatic review of video.
Moore also said dummy cameras are being used at the training academy, so
officers are taught early on to use them as a regular function of their duties.
Officers must manually turn the cameras on, but Moore said the
department is interested in any technology that can turn them on automatically.
He said the San Diego Police Department "is experimenting with a holster
assembly that once the handgun is removed, or the firearm is removed, it
automatically activates the body cam video."
"This is an emerging technology that we as an organization are learning
it, our people are learning it, and we are establishing systems and controls
to ensure that we meet the expectations of the chief as well as this board that
they are used as a matter of muscle memory, but also… we need to improve on
the technology so that it isn't reliant on muscle memory," Moore said.
The commission also asked the LAPD for a report on how often the cameras
are not being turned on when they should be by officers, because the
department does not yet know the full compliance rate.
"This is going to be a national issue now, because body cameras are a
national thing now," Commission Vice President Steve Soboroff said.
City News Service.
Photo by: Scott_Cornell