Kneehigh and Bristol Old Vic have sent a theatrical gift across the pond presenting us with the U.S. premiere of the award-winning "The Flying Lovers of Vitebsk." The word "brilliant" is often overused, but in this case, this highly stylized abstract play about the life and times of Marc Chagall and his wife Bella, written by Daniel Jamieson and directed by Emma Rice, aptly describes this dazzling production. The story was written 25 years ago by Jamieson, who played the lead role, while director Rice played Bella. Her directing brings out the heart and soul of this amazing couple, illuminating the profound influence his Jewish roots and his relationship had on his magnificent body of work.
Marc Antolin as Marc Chagall with Daisy Maywood as his wife Bella, recreate a colorful image from one of Chagall's paintings in which flowers are present.
Casting the extraordinarily talented Marc Antolin as Chagall and equally talented Daisy Maywood as Bella was a stroke of genius as these two actors bring to life, in a most visceral and acrobatic way, the profoundly loving relationship between these historic lovers. Performed on a fascinating tilted set, almost resembling a jungle gym, designer Sophia Clist, who also created the period costumes, put together a series of set pieces that are interchangeable. The result is it's almost like watching a circus act as the two performers fly around the stage, using long ropes to assume poses we see in some of Chagall's paintings.
Marc Antolin (Marc Chagall,) James Gow (musician,) Ian Ross (Composer and Music Director,) & Daisy Maywood (Bella Chagall).
Music director and composer Ian Ross helps drive the story forward through a haunting Klezmer* influenced musical score. At times the songs are sung in four-part harmony with composer Ross, musician/singer James Gow, and Marc and Bella who, at other times, sing beautiful duets. What is particularly fascinating is that the actors perform in white face, and different disciplines or movements are employed from ballet to mime bringing to mind visions of Marcel Marceau's clown, Charlie Chaplin, or circus trapeze artists.
Marc Antolin as Marc Chagall paints one of his famous paintings of a rabbi.
Young Chagall's initial interest in painting springs from a fellow student at the Hebrew school he was attending in Vitebsk. He saw him drawing and asked how he learned to do that. His schoolmate suggested that he pick up an art book at the library and copy the drawings which he does, thus embarking on the road to becoming a pioneer of modernism and the only major Jewish artist. Later, he meets up with Yehuda (Yuri) Pen, a realist painter operating a small art school specializing in portraits. Chagall has no money for lessons, but Pen recognizes his talent and teaches him for free. However, the young painter soon realizes that painting portraits is too stifling.
(Above) Against a backdrop of vibrant colors, Marc Antolin as Marc Chagall and Daisy Maywood as Bella recreate a similar pose from a painting. (Below) With their town of Vitebsk in the background, this is a Chagall painting of Bella Chagall being held in the air by her husband Marc.
The magical love story between Chagall and teenager Bella Rosenfeld begins in 1909 in Vitebsk, where they meet at the home of a mutual friend. Their attraction is instant but future plans are put on hold as Chagall tells her he must go to Paris to paint. It is there that his reputation begins to flourish and with that reputation comes more acceptance from Bella's wealthy parents who own three jewelry stores. After two years he returns and proposes marriage informing the patient Bella, "I learned everything I needed to know in 10 minutes at the Louvre." His mother is not sure about his career choice but tells her friends that her son wants to be a painter. One friend says, "Do you think he could paint my house before Passover?" There's a charming wedding scene where the bride and groom sit in a chair within a chair, which in traditional Jewish weddings is lifted into the air by the guests. The dance sequences are exquisitely choreographed by Rice and Etta Murfitt, who work within a Russian/Jewish theme.
(Above) Marc Antolin as Chagall performs acrobatic leaps depicted in the the famous Chagall circus painting. (Below) One of Chagall's paintings captures the playfulness and vibrant colors of a circus recreated in this stage production.
Chagall continues to enshrine their loving moments in his fantastical paintings using a unique palette exploding with vibrant colors, which are recreated by Malcolm Rippeth's gorgeous light design. He captures that essence by drenching the stage and actors with the intense colors used by Chagall, right down to pinpointing their faces with a kaleidoscope of changing hues.
Times are becoming difficult and political unrest begins in their tiny town with Jews being accused of spying for the Germans so the young couple pack up their belongings and flee to St. Petersburg. Life is not easy for them, money is scarce, and her husband is gone from dawn to dusk. By this time they have a baby girl named Ida and Bella, who is highly educated, spends her days in frustration for not being able to devote time to writing.
It is during this period that the Russian Revolution is heating up and Marc hopes that those in power will recognize his work. He helps build Vitebsk Arts College but is eventually fired perhaps because he is a Jew. Further conflict in Europe is imminent and anti-Semitic attacks become rampant. Chagall is stopped on the street by a soldier, "Are you a Jew?" After a long hesitation, "Me a Jew? Why do you insult me? "Then you may pass." Bella's family loses their jewelry shops and life in Vitebsk is no longer recognizable. Drawing on mythology and the landscape of dreams, his paintings reflect the world around him becoming glorious illuminations of love, loss, and displacement while still maintaining a thread of optimism. With all the chaos around them, Bella asks her husband why he smiles at people. He replies, "I smile at passersby just to feel the warmth of their smiles."
Daisy Maywood (Bella Chagall) with Marc Antolin (Marc Chagall) in a pose similar to one of the artist's famous paintings.
A quote by Marc Chagall sums up this production's poetical depiction of his relationship and work: "I adore the theater and I am a painter. I think the two are made for a marriage of love…"
*Klezmer is the traditional secular music of Ashkenazi and Hasidic Jews, which originated in the 'shtetl' (villages) of Eastern Europe.
"The Flying Lovers of Vitebsk"
Wallis Annenberg Center for the Performing Arts
Bram Goldsmith Theater
9390 N. Santa Monica Blvd, Beverly Hills, CA, 90210
Performance Schedule: Tues – Fri: 7:30 pm Sat & Sun: 2:00 pm & 7:30 pm
Closing: March 11, 2018 Single tickets: $35 – $125 (prices subject to change)
Online – click here
By Phone – 310.746.4000
Box Office – Wallis Annenberg Center for the Performing Arts 9390 N. Santa Monica Blvd, Beverly Hills, CA 90210
Summary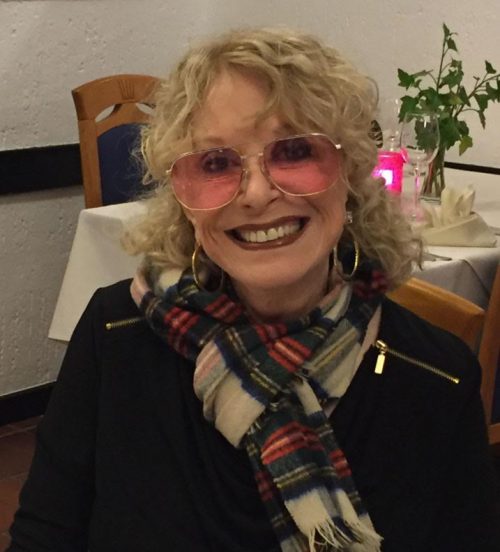 Article Name
Play Review: 'The Flying Lovers of Vitebsk' Makes A Joyous Landing at The Wallis; photos by Steve Tanner
Description
Kneehigh and Bristol Old Vic have sent a theatrical gift across the pond presenting us with the U.S. premiere of the award-winning "The Flying Lovers of Vitebsk."
Author
Beverly Cohn, special contributor to LAWestMedia.com; photos by Steve Tanner