I must begin this review with a confession. I had never seen Stephen Sondheim's and George Furth's musical "Merrily We Roll Along," so I had no idea what the musical was about. Subsequently, my research revealed that it was based on the 1934 play of the same name by George S. Kaufman and Moss Hart and that it opened on Broadway on November 16, 1981. Audiences were confused by the story and critics came down heavily on the production. It was a major flop and closed after only sixteen performances.
Since its inauspicious opening and rapid closing on Broadway, the show has been worked and reworked many times in attempt to tighten and clarify the story line. Productions have been mounted from off-Broadway, to London's West End, to the La Jolla Playhouse, but it would appear that there are still inherent flaws within the book. I should add there's never been a problem with Sondheim's haunting music or soulful lyrics as evidenced by the fact that he received the Drama Desk Award for Outstanding Music & Lyrics and the Laurence Olivier Award for Best New Musical.
So it was with virgin eyes that I attended a performance at the Wallis Annenberg Center for the Performing Arts and could understand why the critics were so harsh as it took me quite a while to grasp what was happening on stage. But, thankfully, by about half way through Act 1 it became clearer that this story is an autopsy of the life and times of Franklin "Frank" Shepard, (Aaron Lazar) who abandoned his career as a Broadway musical songwriter with his partner Charley (Wayne Brady) choosing instead to produce Hollywood movies. The story is not unraveled in a linear fashion, but goes backwards twenty years in time, illustrating how this once almost impoverished songwriter becomes an exceedingly wealthy film producer and how he interacted with the people in his life at particular moments in time.
Act 1 begins in almost a completely darkened stage. One by one, the ensemble enters and still almost invisible, sing the opening song – "Merrily We Roll Along." Finally, the stage is lit and we are in Frank's posh Los Angeles home where a boisterous party is underway celebrating the premiere of his latest film. His oldest friend Mary Flynn (Donna Vivino) is there as is his old writing partner and best friend Charley.
Mary is disgusted by the people with whom he has surrounded himself, and is angry that he gave up his musical career to make formulaic films. She has had a bit too much to drink and offers a scathing toast. After she, Frank and his "friends" sing "That Frank" she tells him what she thinks of him and the shallow people in his life. Before storming off in a rage, she and Charley sing the iconic "Old Friends" which is reprised later in the show. The only time Frank gets rattled is when one of his guests tells him that Charley has won a Pulitzer Prize for a play he has written. But there's more aggravation in store for Frank. His wife Gussie (Saycon Sengbloh) arrives at the party and is furious because she was supposed to get the leading role in her husband's new film, but instead he cast Meg (Rachael Ferrera) a younger, more beautiful actress. This celebration ends on a rather ugly note as his wife confronts him on having an affair with Meg. He wants a divorce and Gussie savagely attacks the young ingénue by throwing iodine in her face.
The action keeps going back in time with Frank the center of attention. Each era explores the changing relationships of the predominant people in his life. There's Mary who's been in love with him from the beginning; Charley, who considers himself to be not only Frank's writing partner, but also his best friend; Frank's wife Beth (Whitney Bashor), and Frank's other ex-wife Gussie. Other people in and out of Frank's life include, Joe Josephson (Amir Talai) who goes from being broke all the time, to a big Broadway producer who launches Frank and Charley's smash hit "Musical Husbands."
Each episode tries to illustrate the events that will take place in the subsequent years but putting all the pieces together could be a bit daunting. The two episodes in the 1950s were particularly interesting as one explores the career struggles of Frank, Charley, and Mary while in 1957, we see the very beginning of their relationships when they initially meet on the rooftop of their apartment building in New York City to watch the historic satellite launch of Sputnik 1, which officially kicks off the space age. It is also the first time Mary hears Frank's music and falls in love with both him and his music and that's how it all began. Got it?
Director Michael Arden has put together an award-winning ensemble and directs with the same intensity and creativity as he did in "Spring Awakening" which was also performed at The Wallis. Under his brilliant direction, the production went to New York where it received rave reviews. The principals in "Merrily We Roll Along" are seasoned Broadway actors who deliver dazzling musical performances, and do the best they can with the flawed book, which made it difficult for the actors to always connect on an emotional level. Arden keeps the action moving at a brisk pace in Act 1 but Act 2 begins to sag in the middle, which again, is due to the problems inherent in Furth's book.
The production team delivers a creditable look, but I must say that Travis Hagenbuch's light design resulted in very spotty lighting and the use of the sharp lights aimed at the audience caused people to shield their eyes with their programs. Dane Laffrey's set design was quite interesting as he filled the stage with ten illuminated make-up tables that created a recognizable theatrical look. His costume design for most of the cast was acceptable except for poor Donna Vivino (Mary) whose outfits were most unflattering – sort of what my mother would describe as "a featherbed tied in the middle." Other members of the team included Dan Moses Schreier's excellent sound design and the production's perfect musical direction by Adam Wachter. Last, but certainly far from the least, is Eamon Foley's inventive choreography, which was executed by an excellent ensemble which includes: Eric B. Anthony, Sandy Bainum, Melody Butiu, Doran Butler, Max Chucker, Sarah Daniels, Laura Dickinson, Kevin Patrick Doherty, Jennifer Foster, Travis Leland, Lyle Colby Mackston, Brent Schindele and adorable Maximus Brandon Verso as Frank, Jr.
Despite the inherent problems with the book, in closing I'd like to quote that famous New York critic Clive Barnes who wrote, "Whatever you may have heard about it – go and see it for yourselves. It is far too good a musical to be judged by those twin kangaroo courts of word of mouth and critical consensus." So yes, this current production of "Merrily We Roll Along" is a chance to see a musical that is not staged very often and after all, it's Stephen Sondheim for Pete's sake and you get to hear such gorgeous songs as "Good Thing Going," "Our Time" and the very haunting "Not a Day Goes By," all of which is sung by very gifted performers.
MERRILY WE ROLL ALONG
Wallis Annenberg Center for the Performing Arts
Bram Goldsmith Theater
9390 N. Santa Monica Blvd. Beverly Hills, CA 90210.
Run: Tuesday-Friday 8:00pm Saturday: 2:00 pm & 8:00pm Sunday: 2:00 pm & 7:00pm
Closing Date: Sunday: December 18, 2016
Tickets: $29-$99 310-746-4000 or www.thewallis.org
(The performance runs 2 hours and 30 minutes, including a 15-minute intermission.)
Summary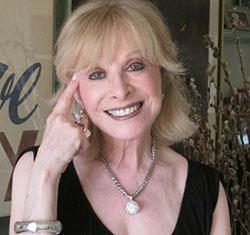 Article Name
Play review: "Merrily We Roll Along" - at the Wallis - doesn't always roll merrily along
Description
This current production of "Merrily We Roll Along" is a chance to see a musical that is not staged very often and after all, it's Stephen Sondheim for Pete's sake and you get to hear such gorgeous songs as "Good Thing Going," "Our Time" and the very haunting "Not a Day Goes By," all of which is sung by very gifted performers.
Author
Beverly Cohn, special contributor to LAWestMedia.com, all photos by Kevin Parry