More than five dozen firefighters who have died in the line of duty while serving the Los Angeles Fire Department, dating back to 1895,...
USC trustees, in their first public statement since the removal of the university's longtime student health center gynecologist, said Tuesday they were "troubled" about...
A Los Angeles City Council committee Tuesday approved a Koreatown parking lot as a potential site for a temporary homeless shelter during a raucous...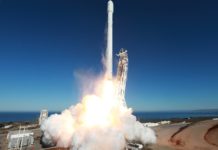 Hawthorne-based SpaceX successfully launched a rocket from Vandenberg Air Force Base Tuesday and deployed five communications satellites and a pair of science-research orbiters. The Falcon...
LGBTQ activists plan Tuesday to call for school and community programs that promote mental health and family acceptance in Latino communities in connection with...
Five people linked to two San Fernando Valley clinics were arrested Tuesday on federal healthcare fraud charges for allegedly participating in a scheme in...
A 2-year-old boy was struck and killed in South Los Angeles by a suspected drunken driver who allegedly veered off the road, hit the...
A woman arrested in the stabbing death of a woman in a mall parking structure in Rolling Hills Estates was released from custody Tuesday,...
The Coroner's Office Tuesday released the name of the second victim who was fatally wounded near a South Los Angeles car wash. The second was...
Two alleged gang members accused in a "knock knock" burglary case pleaded not guilty Monday to charges that could land them in prison for...
Barack and Michelle Obama are getting into the entertainment production business. The streaming service Netflix announced Monday it has reached a multi-year agreement with the...
Saturday night's star-studded event, Backstage at the Geffen, at the Geffen Playhouse honored legendary stage and screen performer Dick Van Dyke and award-winning composer,...
A memorial service will be held Sunday for journalist-turned-entertainment publicist Chuck Panama, who worked with such stars as Elvis Presley, Elizabeth Taylor and Henry...
The had been counting on cellist Sheku Kanneh-Mason to be the guest soloist when it performs at the Alex Theatre in Glendale this weekend,...
The CW unveiled its fall schedule Thursday, including "Supergirl" and a reboot of "Charmed" making up the network's first Sunday programming since the 2008-09...
The Muslim holy month of Ramadan, which commemorates the first revelation of the Quran to the Prophet Muhammad and is marked by daily fasting...
Dragged down largely by bad traffic and the cost of living, Los Angeles County residents' overall quality of life dipped over the past two...
A new report offers recommendations on the location and type of wildlife crossing structures proposed for two of the busiest freeways in the world....
Mad Dogg Athletics, the powerhouse brand behind global fitness phenomena Spinning® and Peak Pilates®, has opened a new multidisciplinary flagship fitness studio on Main...
The Los Angeles County Board of Supervisors voted Tuesday to move forward in negotiating a 50-year lease with Wolfgang Puck to open a Frank...
Serving West Los Angeles, Santa Monica, and Long Beach
Events Calendar
SUBMIT A CALENDAR EVENTIT'S FREE!
May 18 @ 10:00 am
-
June 10 @ 10:00 pm
May 24 @ 8:00 am
-
5:00 pm
May 24 @ 8:00 am
-
5:00 pm
May 25 @ 8:00 pm
-
10:00 pm
May 26 @ 8:00 pm
-
10:00 pm
There are some who say the best pizza in the country is made in the Big Apple, but an authentic New York-style pie is...
A woman is suing the historic Clifton's Cafeteria in downtown, alleging she was severely burned when she was struck in 2017 by a fireball...
USC fired two longtime student health clinic administrators as a result of a Los Angeles Times investigation revealing years of complaints about misconduct complaints...
A former Bishop Alemany High School volleyball coach who was implicated in an off-campus hazing incident in 2008 is named in a lawsuit that...