A one-hander, a play with only a single actor, can very easily fall off that slippery boredom slope, as it's no easy task to keep an audience fully engaged for 90 minutes, without an intermission. That said, a most talented James Lecesne, who wrote and performs the award-winning "The Absolute Brightness of Leonard Pelkey,"  now playing at the Kirk Douglas Theatre, is in no danger of creating one boring moment as this amazing actor fills the stage with a cast of invisible, but fully developed characters. He endows each one with specific physical and vocal characteristics, as well different attitudes and transitions from character to character within a nanosecond.
Directed by Tony Speciale, who keeps the action moving at a brisk pace, the story revolves around the disappearance of a young gay boy being investigated by Detective Chuck DeSantis (James Lescesne) who works out of a precinct in a small town in New Jersey. His character is rather unpolished and has what we think of as a thick New York accent, which I suppose is the same as New Jersey. He begins his day with "coffee and a cruller" and surprisingly occasionally quotes a line from Shakespeare. This would seem quite out of context with his rather gruff exterior, but adds a nice dimension to his character.
The first character into which he instantly morphs by simply doing a full turn, is the very colorful Ellen Hertle, owner of "Hair Today," a local beauty salon. She is accompanied by her 16-year-old daughter Phoebe. Young Leonard had been living with them since his mother died and is now missing. Ellen explains that he is different from other boys his age, but that he is a blessing to everyone who knows him. She explains that he is very flamboyant in his dress and make-up and at times she advised him to "take it down a notch or two." He created a special pair of platform rainbow sneakers by cutting up a bunch of flip-flops on top of which he glued the sneakers, making him yet another target for ridicule. A photo of the sneakers is projected onto a rear screen, along with other pieces of evidence, such as his backpack and a watch. While talking to the detective, Ellen lights a cigarette and I swear it was so believable I almost saw smoke wafting into the air. In acting terms it's what's called an overwhelming attention to detail.
Ellen paints a picture of this loving young man saying that he enjoyed giving advice to her customers. He would council them on make-up, hairstyles, and color. He also insisted that every woman should have a basic black dress in her wardrobe.   Leonard would say things like: "Beauty is in the eye of the beholder, but would it kill you to give them something to behold?" When Lecesne transforms into Phoebe, we see a nervous teenager with a distinctly different voice and physical life. She is awkward and fidgets as she talks about Leonard, pulling up her socks and repeatedly tucking her hair behind her ears. Again, Lecesne really nails his interpretation of this teenager.
Another colorful character who DeSantis interviews is a very opinionated Gloria, widow of Frankie, a mafia guy. She spends her time looking across the lake through binoculars and spies the sneaker in the lake. She calls our detective to immediately come back to her home so he can retrieve the muddied sneaker, a photo of which is projected onto the rear screen.
Throughout the play, Lecesne brings in people whose lives were touched by Leonard. There's Otto the watchmaker who couldn't accept that his son Richard was gay. Perhaps Otto's way of atoning was to develop a nice relationship with Leonard and gifted him with watch. We also get to meet Buddy Howard from the Buddy Howard School of Drama and Dance who was also one of Leonard's admirers.
It seems that Leonard had listed in his diary ten boys who has abused him, including Kevin McDonald and Tony Greco. Another boy listed in the diary was Travis, who the detective interviews at his home while he is playing a video game. It was an amazing transition, as Lecesne becomes a 14-year-old boy right before our very eyes, both concentrating on the game and answering the detective's questions at the same time. The detective discovers that Travis has Leonard's special money clip and soon the truth begins to emerge. A trial ensues and Ellen asks for permission to address the court and directs her scathing remarks to Travis, who has been handed only a 25-year sentence.
Without being "preachy," philosophically "The Absolute Brightness of Leonard Pelkey" bears witness to what society will do to someone who is different and doesn't fit in their version of what's normal. The character of Leonard Pelkey was a sweet young man who dared to be different. He brought love to all who knew him and as a tribute to their friend, Detective DeSantis tells us that all the ladies from the beauty salon showed up at his funeral in their basic black dresses, living proof of the wonderful influence he had on all of them.
This a "no frills" production with a very simple set design by Jo Winiarski, lighting design by Matt Richards, projection design by Aaron Rhyne, and original music by Tony Award-winning composer Duncan Sheik. Oh yes. Much to the delight of the opening night audience, for his curtain call, Lecesne leapt across the stage in a balletic Chassé en tournant* putting the icing on a most delicious theatrical experience.
*Leap and turn
Kirk Douglas Theatre
9820 Washington Blvd.
Culver City, CA 90232
Run: Tuesday – Friday: 8:00 pm
Saturday: 2:00 & 8:00 pm
Sunday:     1:00 pm & 6:30 pm
Closing: January 31, 2016
Tickets: $25 & Up
213.972.4488 or click here
(Free parking available at Culver City Hall across Culver Blvd. Entrance on Duquesne.)
Summary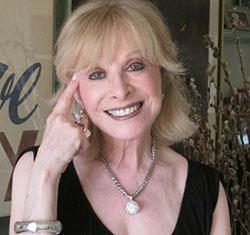 Article Name
Description
A most talented James Lecesne, who wrote and performs the award-winning "The Absolute Brightness of Leonard Pelkey,"  now playing at the Kirk Douglas Theatre, is in no danger of creating one boring moment as this amazing actor fills the stage with a cast of invisible, but fully developed characters.
Author
Beverly Cohn, exclusive to LAWestMedia.com