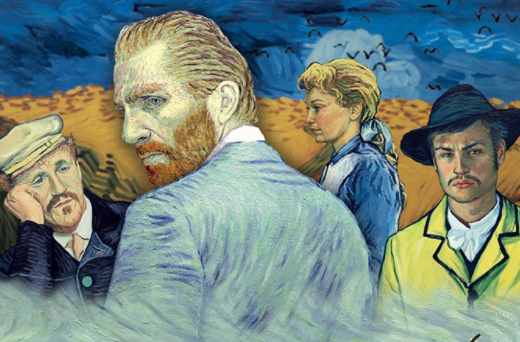 To place this review in some context, I have been a movie buff since I was eleven years old. Every Saturday, my best friend Carole Vaccarelli and I would head off to the Murray Hill movie theatre on 34th Street and Third Avenue. But first we would stop off at an Italian deli to pick up ham and cheese hero sandwiches and a cream soda, as it would be a long day. The afternoon would include cartoons, coming attractions, newsreels, which was one way we got the news, and then the main feature. We were seated in the children's section, which was supervised by a stern matron wearing a white uniform and carrying a flashlight, which she would shine in your face if you were caught talking. I share this with you so that you can imagine how many films I have seen since those early years in New York City. Loving Vincent is absolutely in a creative class of its own.
Loving Vincent, written by Dorota Kobiela, Hugh Welchman and Jacek Dehnel and directed by Kobiela and Welchman, is an animated film the likes of which I can assure you, you have never seen before. One hundred twenty-five professional artists from around the world comprised the Painting Design team who created 65,000 high-resolution photographs of actual oil paintings resulting in the unique look of the film. They replicated 94 of Vincent van Gogh's most famous paintings along with 31 other works that are partially featured. The hypnotic constant kinetic movement and changing hues in both the settings and the actors' images, drives the action forward and it might be said somewhat conveys the torment that van Gogh went through. I found myself actually gasping at the breathtakingly beautiful scenes unfolding on the screen.*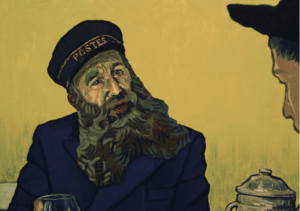 An elegant homage to one of the most famous artists in history, the story takes place in France in the summer of 1891. On hearing of the death of his friend Vincent van Gogh, (Robert Gulaczyk) postman Joseph Roulin (Chris O'Dowd) gives his lazy son Armand (Douglas Booth) a letter to hand-deliver to Vincent's devoted brother Theo, who was thought to be living in Paris. Armand resents this mission, as he's embarrassed that his father was a friend with a foreign painter who was sent to a local asylum for cutting off his ear. Nevertheless, Armand reluctantly accepts the "assignment" but when he arrives in Paris, he cannot find Theo. Now, the story begins to take on the complexion of a mystery as Armand starts to follow leads, the first one of which takes him to Vincent's paint supplier Pere Tanguy (John Sessions) who tells him that Theo died from grief shortly after his brother killed himself. Pere talks about how much Theo helped Vincent, supporting him when he was penniless at 28 and failing at different attempts at a career, and wound up living in a barn in the mining district of Borinage, Belgium. He was directionless and had no idea what to do next. Sadly 10 years later, at the time of his death, he had become the new artistic sensation of Paris. As Armand learns more and more about the painter, he begins to understand his father's friendship and becomes obsessed with finding out why Vincent would kill himself at the height of his impending success.
In search of answers, the next part of Armand's journey is to the quiet village of Auvers-sur-Oise, which was Vincent's final destination. It was there that he was to meet Vincent's physician Dr. Paul Gachet (Jerome Flynn) who looked after him in his final weeks. The doctor was away for a couple of days but Armand decides to wait. In the interim he goes into town in search of more insights and visits the Ravoux Inn, where Vincent lived for the last ten weeks of his life and where he died of a bullet wound to his abdomen. It is during his visit that he meets Adeline Ravoux (Eleanor Tomlinson) the innkeeper's daughter who he interviews. He also talks to the doctor's housekeeper Louise Chevalier (Helen McCrory), the doctor's daughter Marguerite Gachet (Saoirse Ronan), and the boatman (Aidan Turner). It appears that the truth is somehow being hidden from him and Armand becomes determined to find the facts both for his father, for Vincent's memory, and for himself. As the mystery surrounding his death deepens, and people giving him conflicting stories, he finally meets with Dr. Gachet who voices his doubts that the artist had actually killed himself because of the trajectory of the wound. Ultimately Armand gets closer to the truth that he senses is being hidden from him – the truth about the passionate and uniquely astonishing life of this sublimely gifted painter.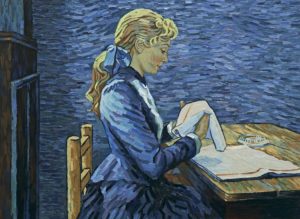 If you love Vincent van Gogh's paintings, a tightly written screenplay, impressive acting by a talented cast, hypnotic art design and cinematography, which is combined with the imaginative use of animation and hand-painted scenic reproductions of the artist's most famous paintings, then you won't want to miss this wondrous masterpiece, guaranteed to engage all your senses.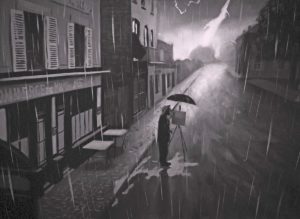 LOVING VINCENT
A Poland/UK Co-Production With Qatar
Written by: Dorota Kobiela, Hugh Welchman & Jacek Dehnel
Directed by: Dorota Kobiela & Hugh Welchman Cinematographers: Tristan Oliver & Lukasz Zal Costumes: Dorota Roqueplo
Genre: Animation, Mystery, Art House, Biopic
Language: English
Rating: PG-13
Running Time: 94 minutes
Release Date: Opens September 29, 2017 at the Laemmle Royal.
*A Sampling of Replicated Paintings: "The Starry Night" "Bedroom in Arles" "Irises" "Café Terrace at Night" "The Yellow House" "The Red Vineyard" "Wheatfield with Crows" "The Night Café" "Portrait of Dr. Gachet" "View of Arles Flowering Orchard" "Farmhouse in Provence" "Self Portrait with Bandage" "Vase With Fifteen Sunflowers" "Wheat Field with Cypress" "Girl in White"
Summary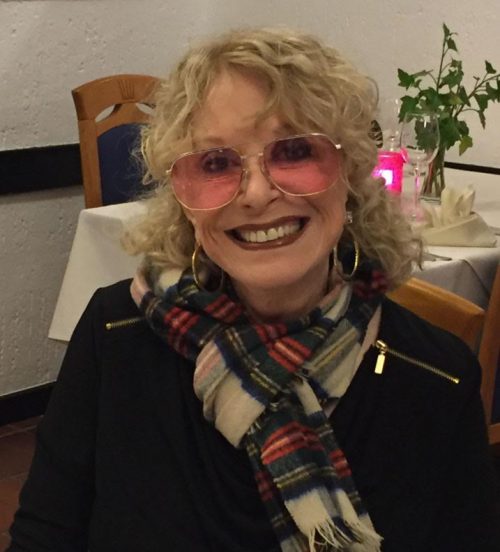 Article Name
Film Review: 'Loving Vincent' - An Astonishing Achievement in Filmmaking
Description
If you love Vincent van Gogh's paintings, a tightly written screenplay, impressive acting by a talented cast, hypnotic art design and cinematography, then you won't want to miss Loving Vincent, a wondrous masterpiece, guaranteed to engage all your senses.
Author
Beverly Cohn, special contributor to LAWestMedia.com; images from Good Deed Entertainment